A unique shampoo and bubble bath product together, designed for children over 3 years old. With 94% ingredients of natural origin, with rice starch and sweet almond oil to respect children's skin. With a delicate fragrance, its sweetness will amaze you.
Vegan friendly, 100% plastic free, zero waste. 100% Made in Italy product.
Weight: 70 g - equivalent to 60 washes
Fragrance: Crème Caramel, Vanilla Bean, Orchid
How it works
Simple and convenient to use. Save space and reduce waste.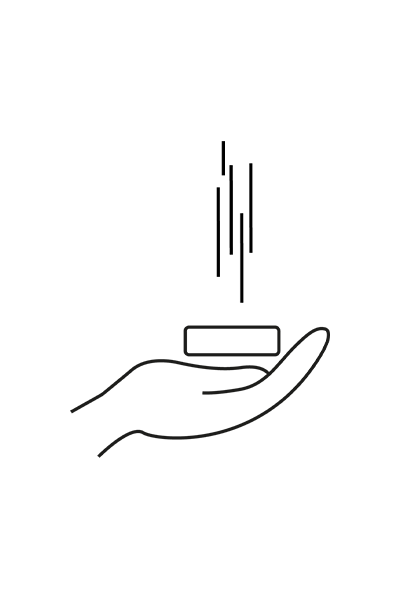 Activate it under water
Run the product under water between your hands.

Apply
Apply the product to wet hair and body and massage gently.

Stow
Store in a dry place. You may find it helpful to use our special R5 solid holder.
SWEET ALMOND OIL
It is obtained mainly from the seeds of Prunus dulcis, a member of the Rosaceae family, through a cold-pressing process.
The pulp of the fruit is thin, hard and dry, which is why the fruit is not consumed.
It has a liquid appearance, a light yellow color and a delicate odor and is composed mainly of oleic acid (65 percent) and linoleic acid (30 percent).
It is known for its moisturizing and nourishing properties, as well as emollient and elasticizing properties.
It has numerous uses in cosmetics, starting with olive oil for making massages on the body.
It is very mild and also suitable for the skin of young children and is used for hair care.
RICE STARCH.
It is a very fine, white powder that is obtained by processing rice grains and is used in natural cosmetics for its soothing and refreshing properties. It allows gentle cleansing
while respecting the skin's natural defenses.
It is recommended as a gentle product suitable for the most sensitive skin. This is precisely why it finds use in products for children.
Composition
INGREDIENTS: sodium cocoyl isethionate, aqua, sodium chloride, sodium lauroyl methyl isethionate, prunus amygdalus dulcis oil*, glycerin, oryza sativa starch, parfum, erythritol, caprylyl glycol, carrageenan, propanediol, citrus aurantifolia fruit extract*, sodium sulfate, CI 19140.
* Upcycled
Packaging: FSC cardboard® MIX, 100% recyclable. The FSC Mixed label indicates that the wood or paper inside the product comes from FSC-certified material, recycled material and/or controlled wood (no less than 70% certified and/or recycled materials). FSC Certification® allows all of us to truly protect resources by indicating who is working to protect the environment.

Porta-solids (found only in the kits): 100% recycled plastic at km 0, from Bergamo's separate waste collection and 100% recyclable.
Recycling waste means turning it into a resource, a product that can be reused and put back into the economic system by creating items from secondary raw materials. This activity, is essential to help our planet, as it reduces the consumption of raw materials (oil), energy use and CO2 emission.