GUPPYFRIEND®
the problem of microplastics
Why do we talk about Microplastics?
Did you know that countless microplastic fibers come off our clothes with every wash? These cannot be reliably filtered out by either washing machines or sewage treatment plants and therefore end up in our water.

Microplastic particles break down into smaller and smaller particles and accumulate toxins. They are ingested by fish and other marine life that cannot distinguish the tiny plastic from their food. The consequences for animals and nature are severe.

And we are affected too: plastic fibers from our clothes enter our bodies through food.
R5 LIVING CHOOSES GUPPYFRIEND
Why we want to work with GUPPYFRIEND®
The GUPPYFRIEND bag ®is a scientifically proven and patented solution against microplastic fiber pollution during washing and the only one that protects clothes and the environment.

Our main goal is to work to change small daily gestures that have a negative impact on the Planet every day.
We eliminate plastic where it is not needed and recycle it where it is needed. We are PLASTIC NEGATIVE certified.
GUPPYFRIEND® works to eliminate the microplastics that we put into the sea with every wash. This partnership is fundamental for us. Our role is to help people change their everyday habits and GUPPYFRIEND® is one of the solutions.
How it works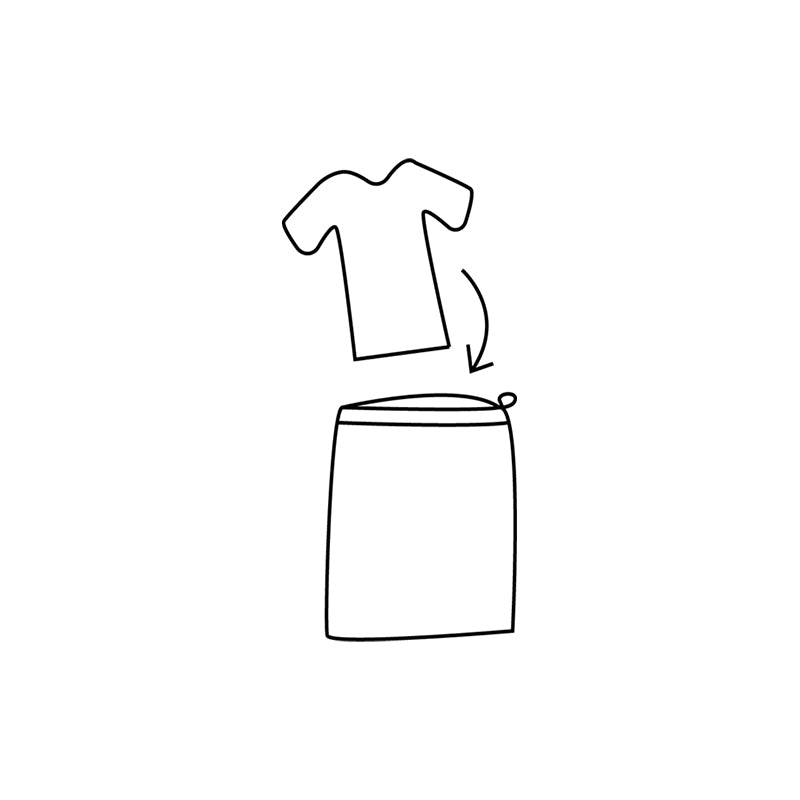 1. Fill
Place the synthetic garments to be washed in the GUPPYFRIEND bag®. Fill to about ⅔ of the bag, so that the fabrics can move easily.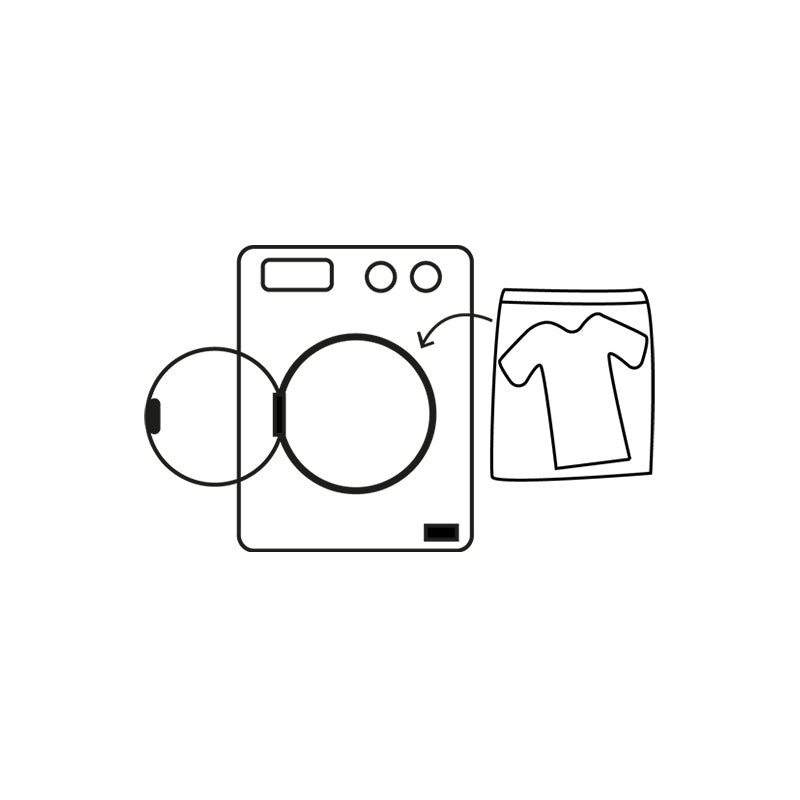 2. Close and Wash
Close the GUPPYFRIEND® bag and put it directly into the washing machine.
Add additional non-synthetic clothing or a second full GUPPYFRIEND® to avoid imbalance. Wash as usual at 40°c maximum.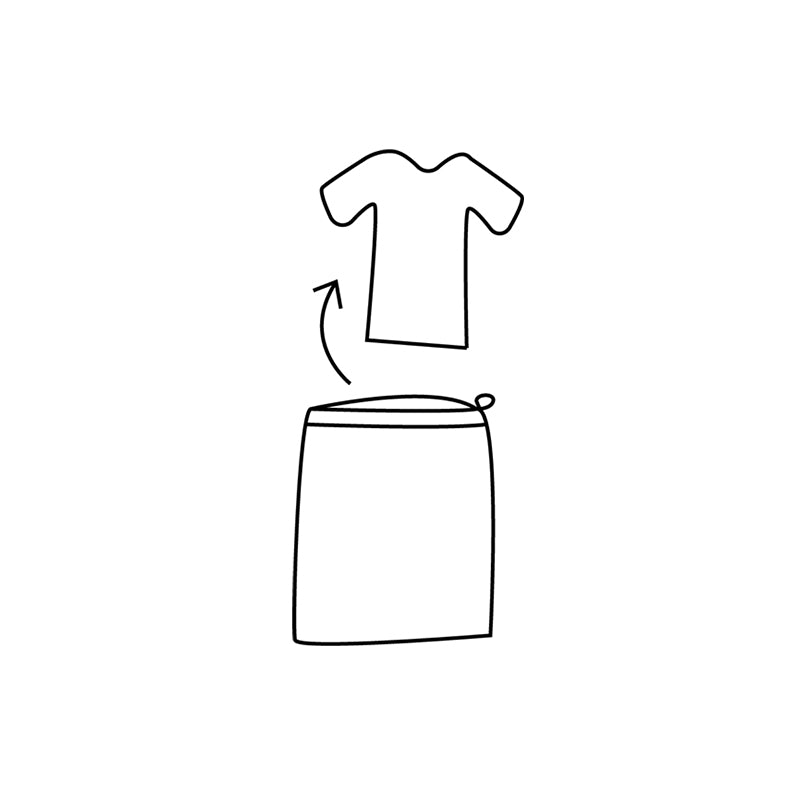 3. Download and Empty
Empty the washer, remove the items from the GUPPYFRIEND® while they are still wet.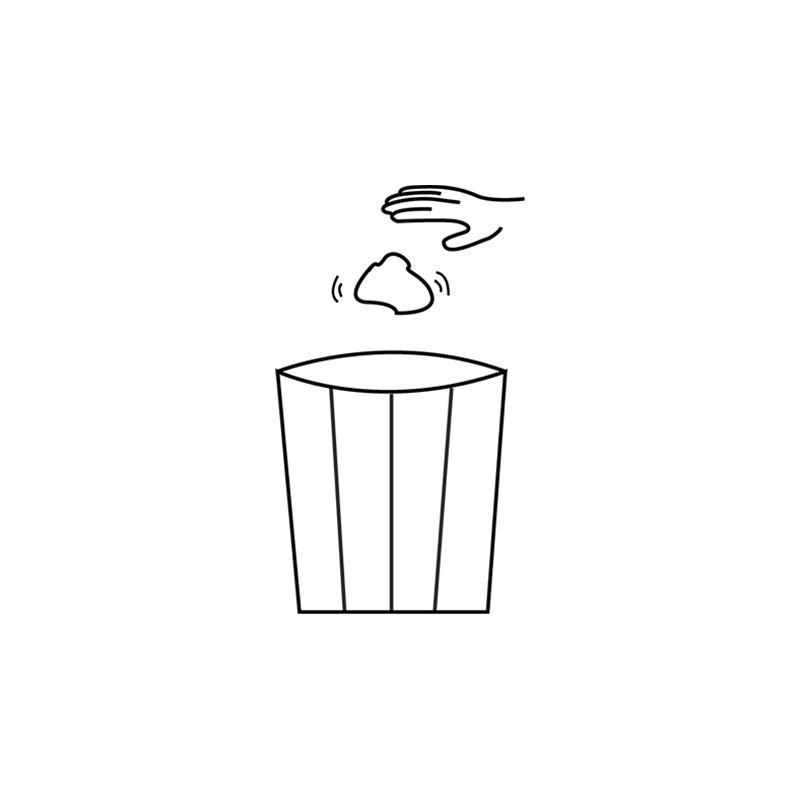 4. Remove and Relax
Remove the collected fibers from inside the filter fabric by hand and dispose of them in undifferentiated waste.
And relax knowing you did the right thing!
How to empty the GUPPYFRIEND®
You will find the microfibers on the sides of the bag near the blue border. Dispose of the collected microfibers in your residual waste. It is best to collect and dispose of collected fibers in a closed container. This reduces the chance that the small, lightweight synthetic fibers will be swept up during waste collection and end up in the environment.
Microfibers do not belong in recyclable waste because they cannot be recycled.

Residual waste is generally used to generate electricity.
how to wash in a sustainable way
The Washing Guide
If you want to reduce the negative effects of washing, follow this simple guide and you'll make a real difference
THE GUIDE OF STOP! MICRO WASTE
#1 AVOID CLOTHES THAT CONTAIN PLASTICS!
BUY LESS BUT BETTER!

Think about what you really need before you buy. Check the label and avoid synthetic fabrics such as polyester, acrylic and nylon. Be critical of misleading advertising. Also ask your local store and favorite brand about microfiber-free alternatives. They need to know you care.
#2 STAY COOL!
WASH COLD!

There are some habits that it's just about time to change: washing color garments at 40°C and bedding at 60°C is just the thing to change. In the vast majority of cases, 30°C is sufficient. Water in combination with heat weakens the yarn. The so-called hydrolysis causes much more plastic to end up in our oceans.
#3 WASH LESS!

Air out your clothes and wash stains by hand to avoid unnecessary washing. Don't let convenience harm marine life and our health.
#4 NO SPIN!
REDUCE ROTATION SPEED!

A lot of friction happens during the spin cycle. Synthetic fabrics dry quickly. Skip the spin cycle or at least reduce the RPM (rotation per minute) to protect your clothes and the environment.
#5 NO SHOES!
DON'T WASH SOLID ITEMS WITH LAUNDRY!
The fibers break down due to the mechanical forces of the washing machine. Anything solid washed with your clothes leads to significantly more fibers breaking down. Avoid items like shoes and shin guards. Even the use of wash balls and soap nuts - even if used with good intentions - lead to more plastic in the ocean
#6 LIGHT WITH LIGHT! SOFT WITH SOFT.
SEPARATE FABRICS WITH HARD ANDSOFT SURFACES!

Related to the previous rule and based on the same insight: Separate fabrics with a hard surface from those with a soft surface. If you stop washing things like jeans and your fleece items in the same wash load, you'll reduce your contribution to wash-related microplastic pollution.
#7 KIDS DON'T DRY!
DON'T DRY CLOTHES INA DRYER!

The heat and mechanical forces inside a dryer are also culprits in microplastic pollution. Synthetic clothes dry very quickly anyway. Air dry your clothes. If you must use a dryer, be sure to filter out the condensation water.
#8 BE FAST!
WASH LONGER!

The longer you wash, the more the fibers break down. All washing machines have a short wash program. Use.
#9 GREEN DETERGENTS!
USE LESS AND BETTER DETERGENT!

Look for a detergent with a neutral ph value and no bleach.
#10 USE A FILTER AND GUPPYFRIEND WASHING BAG!

Filter your wastewater: Build a filter for the outlet of your washing machine. Use Guppyfriend. It keeps microfibers from entering the oceans. Using it causes fewer fibers to break down, thus extending the life of your fabrics. Fibers that do break down are reliably retained.
(SOURCE: https://stopmicrowaste.com/en/tenfortheocean)
The Long Term Solution
The GUPPYFRIEND bag® can only be a temporary solution to prevent plastic pollution. Our consumption behavior has to change dramatically. New materials and washing machines with proper filters must be developed, in the meantime GUPPYFRIEND® is a pregmatic and effective solution to reduce plastic pollution of our rivers and oceans.
We need to reduce the production of unnecessary single-use plastic, not demonize plastic in general. In each of our actions we can decide what to choose and change our habits.